Excellence Enhancement Centre (EEC) for Indian Power Sector was conceptualized as a part of bilateral cooperation between Govt. of India and Govt. of Federal Republic of Germany. EEC was set up through an Implementation Agreement between BEE & CEA, Ministry of Power, GOI and GIZ, Germany under the Indo German Energy Programme (Phase II), in September 2011 to promote dialogue in the area of Energy Effi ciency and Energy Security. EEC has been registered under SOCIETIES REGISTRATION ACT XXI OF 1860 vide Registration Number: S/024/2010 issued by Registrar of Societies Govt. of NCT of Delhi . EEC started its functioning w.e.f February 2012.
Involved Organisations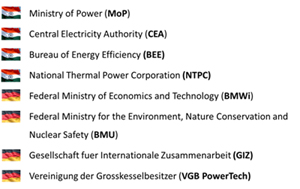 A memorandum of understanding was signed between Central Electricity Authority and VGB, Germany to co-operate in the field of Power Sector. The EEC has been operationalized after signing of Implemenation Agreement between CEA, Ministry of Power, Bureau of Energy Efficiency (BEE) and GIZ under Indo German Energy Programme Phase II on 8th September 2011.
Governing Body of EEC
President
Chairperson, Central Electricity Authority
Vice-President
Member (Thermal), Central Electricity Authority
Ex-Officio Member
Director General, BEE
Secretary
Shri V.K.Kanjlia, Former Secretary, CBIP
Treasurer
Shri Manav Jain, General Manager-Finance, Steag India
Honorary Members
Dr. J.T Verghese, Chairman, Steag India
Director (Operation), NTPC Ltd.
Shri D.K Jain, Ex-Director (Tech), NTPC Ltd.
Member from VGB Germany
Dr. Winfried Damm ,HOE , GIZ
Shri V.K Kanjlia , Former Secretary, CBIP
Elected Members
Executive Director(Thermal), NLC
Executive Director (OS) , WBPDCL
Chief Engineer I/C (Gen.), GSECL
Chief Engineer (QC&I), DVC
General Manager- Sales and Field Services, Siemens
Executive Director , Steag India
Head Global Sales and Delivery, Uniper India
Director EEC
Shri Rakesh Chopra
* Likely to be expanded to have wider representation of Power Sector Organisations.